About Us
We are compliant with New York State.
We were among the first to apply for our New York State Hemp License. In the midst of Covid-19, NY State created new laws for Hemp that required a license. We immediately filled out all the paperwork and submitted payment. The state office was so backed up, that a year passed and NY State failed to issue or deny our license. It remained pending for the entire year. After repeated calls and emails we found out that NY was closing up the original division that were supposed to issue licenses. During this time a brand new division, The Office Of Cannabis Management was being created. We are 100% complaint with all NY Laws since 2021. You will be happy to know that you can count on us to follow all of New York's strict guidelines in order to provide you with legal, safe, legitimate, 3rd Party Lab tested Hemp products.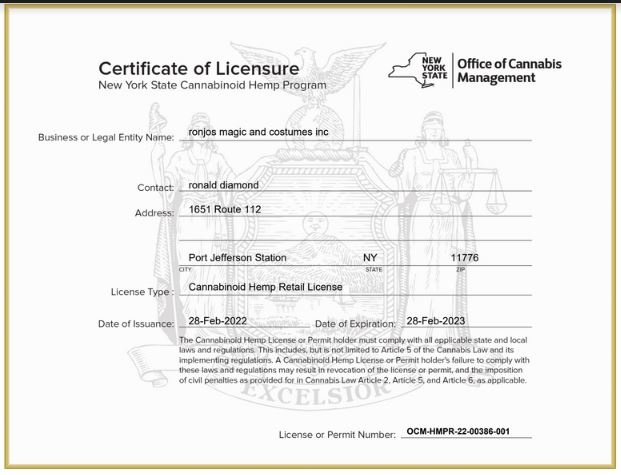 Welcome to a new world of CBD natural health alternatives for for humans and pets.
CBD is a plant with amazing positive healing power. It is not a chemical. It is a natural plant. Sleep issues, pain issues, anxiety, headache, nausea, helps children with ADHD, all controlled by a plant. We have skin conditioning lip balms to shampoo and conditioner to care for your skin and scalp.
What is CBD? Cannabidiol or CBD is a truly marvelous chemical compound derived from hemp plants with proven medicinal & therapeutic benefits. Not synthetic, natural. 
Our bodies interact with CBD through a built in network of neurons called the Endocannabinoid System (ECS). The ECS runs deep & touches all major systems of the body allowing CBD to affect every aspect of our lives because we all have CBD receptors CB1 and CB2.
CBD is capable of fighting against diseases and it is gentle enough to provide relief and be part of a daily health regiment. 
CBD comes from a plant then is made to the following: oils, edibles, capsules, honey, tea, coffees, lotions and balms. 100% natural so it has no side effects and can be taken with any medications. Always consult your personal doctor for any questions and concerns. 
We always use 3rd Party Lab Tested on our CBD Products. This ensures that what you are buying has the proper amount of CBD in it. We always strive to make our clients confident along with happy and healthy.
Thank you for visiting our site.  I hope we can meet soon and discuss all the benefits that CBD can provide for you. Our shop is part of Ronjo a friendly place to visit and see all of the wonderful CBD products or on a virtual meeting.
We started out as a fun place to shop for Magic & Costumes. The owner started using CBD and introduced the products to his existing clients of his shop. Being in the community for over 40 years the trust of the brands and selection were an instant success. Many of the clients include doctors from our area that now recommend our shop as the leader in CBD wellness. Heart doctors, GP, Rheumatology,  Medical Marijuana Drs. The benefits of CBD are for more the right choice .
When you are on Long Island, We encourage you to visit us we look forward to sharing  a nice experience with you. 
Best CBD Wellness is Inside Ronjo Magic & Costumes est. 1974
1651 Route 112
Port Jefferson Station, NY 11776
Phone: 631-928-5005
Email: [email protected]@gmail.com
Thank you for visiting our website. I hope we can meet and talk soon. Virtual CBD consulting is now available.
— Ron Diamond and the team at Best CBD Wellness